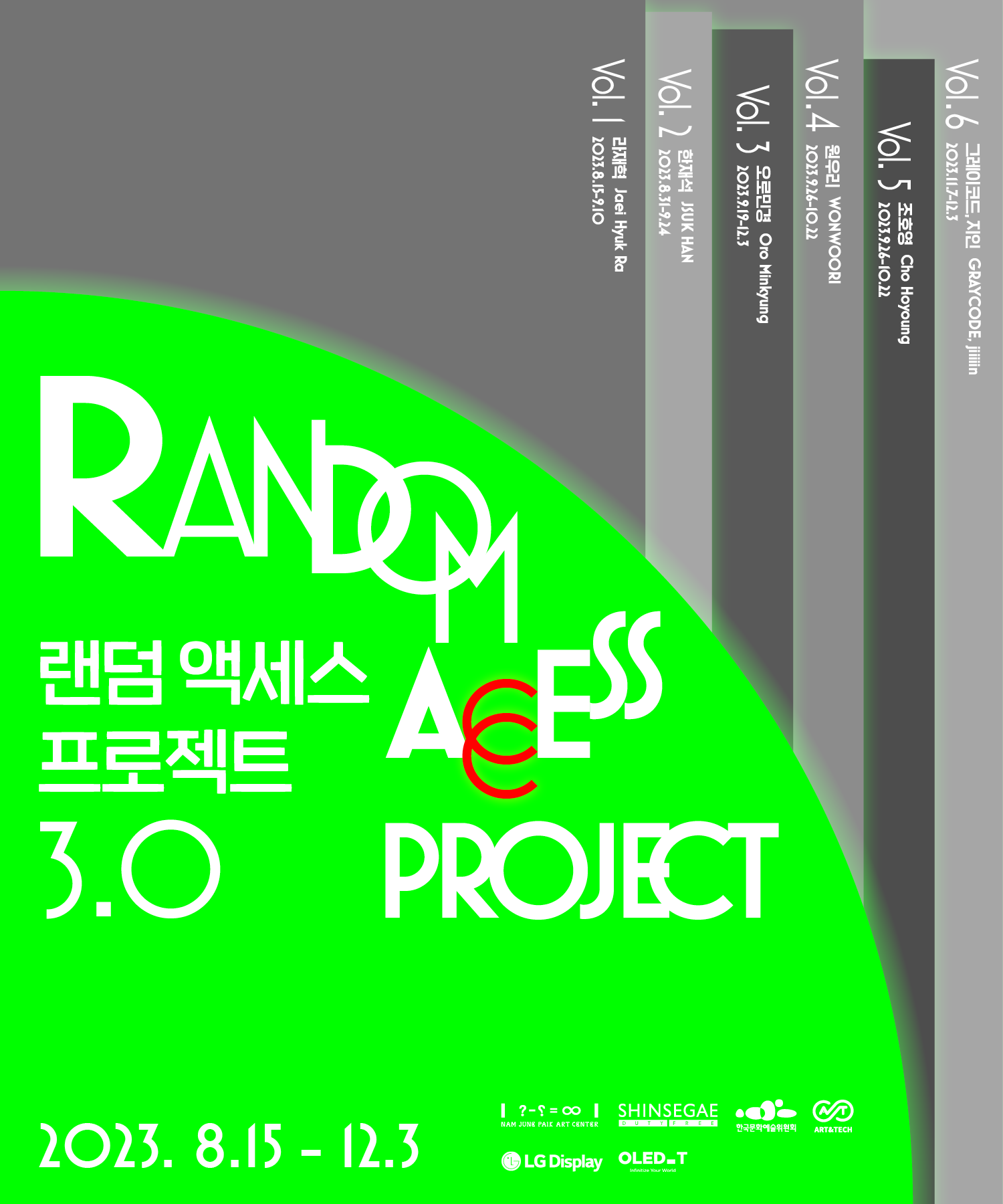 From August 15 to December 3, 2023, Nam June Paik Art Center presents Random Access Project 3.0, featuring six artists ― Jaei Hyuk Ra, JSuk Han, Oro Minkyung, WONWOORI, Cho Hoyoung, GRAYCODE, jiiiiin. Random Access Project is to discovers emerging artists who share Nam June Paik's experimentality. Random Access Project 3.0 was curated as an experiment on the exhibition format and an attempt to expand the possibilities of an art museum. The relay of contemporary artists amplifying Paik's signals takes place throughout Nam June Paik Art Center, from the museum shop and cafeteria to the windows of the exhibition hall and the Random Access Hall, unfolding at different times and creating interventions or collisions in the gaps of the exhibition, only to disappear later.
The name Random Access originates from a work of the same name presented by Nam June Paik in his first solo exhibition, Exposition of Music—Electronic Television (1963). Random Access involves taking a magnetic audio tape out of its casing and attaching it randomly to a wall, allowing visitors to scrape the tape with a magnetic playback head to create sounds. Through Random Access project, Nam June Paik Art Center has been presenting exhibitions that reinterpret Nam June Paik's works and thoughts from 2010 to 2020 through the perspectives of contemporary artists, focusing on improvisation, indeterminacy, interaction, and participation. Nam June Paik Art Center continues Random Access Project 3.0, aiming to create a space where Paik's experimental spirit meets contemporary art in various ways. The utilization of the art museum proposed by the young artists will become an opportunity where new names for exhibitions are discovered.
Artist
Vol. 1 Jaei Hyuk Ra
A composer who poses basic questions about the act of composing, Jaei Hyuk Ra experiments with musical forms in a range of media including music, performance, installation, and video. He creates a zone of communication by drawing listeners into the realm of performance, positioning interactive devices at the intersection between everyday life and art. Recently, his experiments on the music/life boundary have employed the compositional material of "masking," in which concealment is used to reveal different aspects. In this way, he explores the different interactive possibilities that arise between the composer designing a musical performance and the visitor actually listening to it.

Jaei Hyuk Ra working in Dresden, Germany has presented a series of Gap dealing with communication to reduce the gap of appreciation between the composer and the audience since 2016. In addition, there are compositions such as Deaf(2018) and Three Shell Game(2019/2020) series based on the study of the masking effect. Other major works include Views: 3,144,―,―(2018), I'm on the Way (2020), Jéte(2021), and Given Away(2022).
Vol. 2 JSHan
JSHan creates works of sculpture, installation, and sound performance using sound equipment that he has personally collected or produced, including speakers and microphones. Exploring sound output devices and the properties of sound, he has based his creations on research into equipment for converting electrical signals into sound waves and into the physical vibrations of speakers and waves of sound. He has used phenomena of light, sound, vibration, and resonance to spatially represent normally undetectable feedback loops as a form of communication (inputs and outputs, transmission and reception). Han participated in the 2020 ARKO Art Center feature exhibition Follow, Flow, Feed and held the solo exhibition Feedbacker: Ambitious Borderer at the OCI Museum of Art. He has recently been broadening the scope of his work through collaborations with artists in fields such as architecture, circuses, DJing, and subcultures.
Vol. 3 Oro Minkyung
The work of Oro Minkyung Oro examines and listens to landscapes of sound that people regard as "inaudible." Using light and sound, she encourages listeners to focus on moments where they perceive tiny memories and the subtle vibrations of a trembling leaf. Over the last few years, she has taken on themes such as disability, refugees, migration, and political division, creating landscapes of sound in which a form of recovery is attempted within the topography of Korea. In addition to her individual work, she has also engaged in various forms of collaborations, including sound installations, performances, and stage production and planning. One of her major collaborations was the co-founding of the Image Center of Divided Korea as a virtual museum on perceptions of political division. Through this, she designed a program in which members of the millennial generation become subjects reflecting on the surface-level and internal aspects of the post-division society. In her activities with the collective Jageunbit (Little Light), which focuses on minority and refugee issues, she has contributed to awareness of social conflict and voices of solidarity. Her key works include the 2021 sound performance Stone, light, wave and the 2022 object performance Dance of Frail Records. She also held the solo exhibition Love from the Ruins in 2022.
Vol. 4 WONWOORI
Composer WONWOORI has used music and technology to explore methods of interaction on the boundary between the human and the mechanical. Drawing creative information from a process of inputting and analyzing data from people and objects into sinusoidal waves (the minimal components of music), he creates work that combines music with performance and visual installations. Since 2019, he has been studying the mechanized hearing of cochlear implant users, creating work based on experiments in which people with different hearing abilities interact through music. Since participating in the Seoul International Computer Music Festival in 2019, he has taken part in numerous performances, including events such as the 2020 WeSa Festival and the 2022 International Computer Music Conference (ICMC). He was also selected as a resident composer in 2021 at the Electronic Music Studio (EMS) in Stockholm. His work has been presented at Art Collider (2019), Ars Electronica (2020), Insa Art Space (2021), ZER01NE DAY (2021–22), and Paradise Art Lab Festival (2023).
Vol. 5 Cho Hoyoung
Cho Hoyoung creates artwork based on her explorations of the balancing of physical and psychological distance, making use of relationships among objects (or people) and the body's sensory response as it perceives them. Forming installation environments that alter everyday objects and break away from previously learned processes of experience and cognition, she then establishes relationships of potential interaction, where audience participation is incorporated as a physical element. She is sharing a message about how the different relationships that go into a state of equilibrium in physical energy are the same as the process of an individual forming relationships as a social being. Since the 2017 exhibition Zwischenraum at the Raumschiff gallery in Linz, she has taken part in exhibitions at ZER01NE DAY (2018–19) ArchetypeSeoul (2020), and the Seongbuk Arts Center (2022). She was elected as a "New Hero of Public Art" in 2018 and has held solo exhibitions at Space HWAM (2022) and Post Territory Ujeongguk (2020, 2023).
Vol. 6 GRAYCODE, jiiiiin
GRAYCODE, jiiiiin is a duo of electronic music composers and artists. Using air vibrations, sound pressure, and musical tension and relaxation as their artistic language, they create work that uses sound to clearly show phenomena that are real yet invisible. The chief materials in their work are speakers and hardware systems that operate as instruments, resonating with elements in physical space. The wavelengths, undulations, and reverberations that are sensed through their work operate not only on hearing but on visual and tactile experience, encouraging the listener to pay close attention to their way of hearing. A text published for their 2010 exhibition Data Composition was selected for "Best Book Design from Republic of Korea" honors by the Korean Publishers' Association, and they also received a 2018 Giga-Hertz Award presented by the Hertz-Lab (ZKM) and the SWR broadcasting corporation in Karlsruhe, Germany. They have staged exhibitions and performances at various venues in Korea and overseas, including the Yamaguchi Center for Arts and Media (YCAM) InterLab in Japan (2018), the Lunchmeat Festival in the Czech Republic (2018), the Koreanisches Kulturzentrum in Berlin (2019), and project space SARUBIA in Seoul (2020).
Supported by

LG Transparent OLED

Schedule

Vol.
Artist
Title
Dates
Venue
1
Jaei Hyuk Ra
A Few Inches Away From Me
2023.8.15-9.10
1st Floor Museum Shop & Café
2
JSUK HAN
Central Dogma
2023.8.31-9.24
2nd Floor Exhibition Hall
Live Performance
2023.9.23
2nd Floor Exhibition Hall
3
Oro Minkyung
Letters for This Light
2023.9.19-12.3
2nd Floor Exhibition Hall (Window)
Live Performance
2023.10.28
2nd Floor Exhibition Hall
4
WONWOORI
Widening Waves
2023.9.26-10.22
2nd Floor Black Box
5
Cho Hoyoung
A Patch of Ground
2023.9.26-10.22
1st Floor Random Access Hall
6
GRAYCODE, jiiiiin
WIWR (weakly interacting weakly reverberating)
2023.11.7.-12.3
2nd Floor Exhibition Hall
Live Performance
2023.12.2
2nd Floor Exhibition Hall
Exhibition
Random Access Project 3.0